Post Updated

Guest Post By Tom Sheppard
In the chaotic modern world that never seems to rest, it becomes essential for us to retire to our humble origins in nature from time to time to rest and rejuvenate our very souls.
Fly fishing is one of those great hobbies that puts us out in nature and pits our intellect and wits against one of nature's smartest fish. It's very easy to get overwhelmed when starting out. What's great is that there are awesome fly fishing lessons learned to help you along the way.
Once someone gets into trout fishing, they can easily become addicted to it. Trout fishing is complex enough that you can spend a lifetime learning all of the best tactics and techniques and the gear that works best for you. For example, Huston shares his nearly 2 decades of experience over at Trek Warrior and his best practices are extremely interesting.
With that in mind, it makes sense on why it's a great idea to make a trip out to some of the best places in the world for fly fishing. Not only do we get to see a part of nature that hasn't been touched by civilization, but more importantly, we get to taste some of the peak experiences for a fisherman.
In this article, we are going to explore 5 of the best fly fishing destinations in the USA, in no particular order. They are spread across 5 states in the most beautiful parts of the country.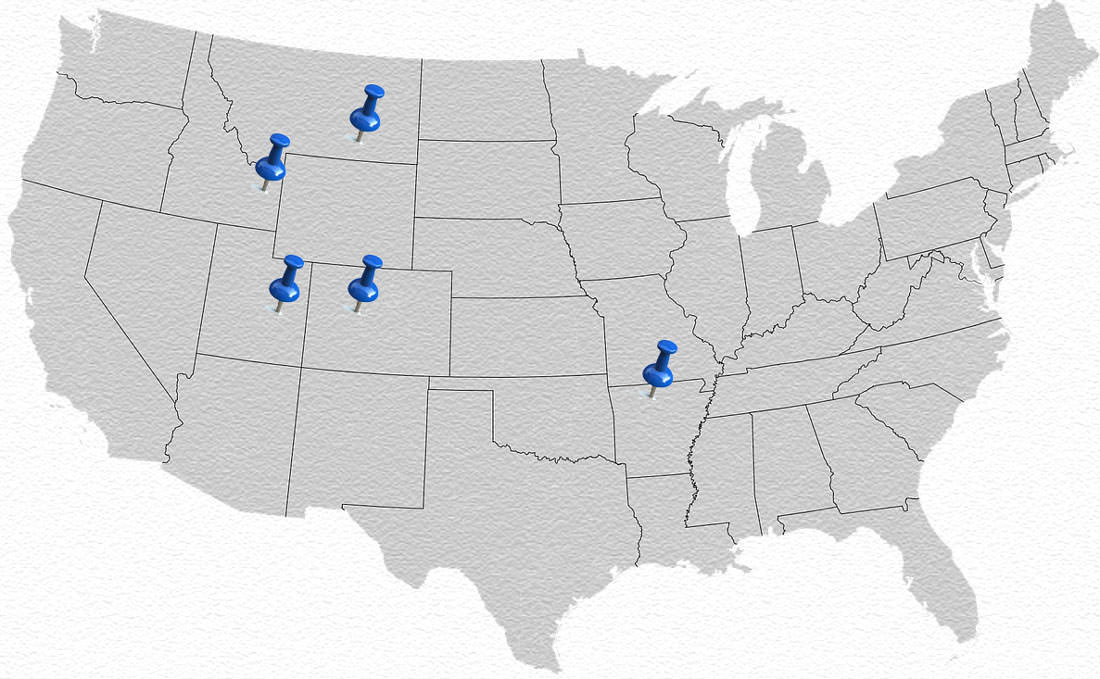 1. White River, Arkansas
Running for over 722 miles through the south tip of Missouri and the top half of Arkansas, the White River is a beauty to behold and one of the best fly fishing destinations you can find. There are many damns built along the way. One of the biggest of these is Bull Shoals Lake, which is one of the top attractions for trout fishing. Another great hot spot is North Fork River.
Image by Larry Smith (Flickr)
There's a lot to do on White River, including camping and of course fishing. You can even get some guided fishing tours at many different spots.
Typically, April through June is the best time to catch the most fish. These months are when stocking of the water is the highest. September and October also make great months because of the weather cooling down as well.
With that said, fishing is pretty good here year round. Great dry fly fishing is usually to be found in lower waters from late August and all the way through December. Nymph fishing is best around May and June.
Try to avoid holiday weekends, since that is the busiest time of year for this area. Occasionally, north Arkansas will get some snow and ice, so you will have to plan your trip accordingly.
2. Fryingpan River, Colorado
As a tributary of the Roaring Fork River, the Fryingpan River is about 14 miles long. It is located in west central Colorado, an area that is known for many rivers and lakes that could be considered the best fly fishing destinations in the country. The river got its name from an amazing story during frontier times when a trapper hung a frying pan in a tree to mark the spot where he left his injured friend while he went for help.
Image By Carolyn Cuskey (Flickr)
Red sandstones and fresh green pines mark the landscape here. The river cuts through a lovely cannon making nice nestled fishing spots.
Brown trout is the most common, but you'll also find Cutthroats, Brook, and Rainbow. The stretch has been designated "Gold Medal" by Colorado, so only artificial flies and lures.
Autumn is by far the best time to fish. It is when the fall time colors are starting to kick in with cooler mornings. With the crowds slowing down, the hatches are also great. The tailwater below Ruedi Reservoir Dam is said to be some of the finest trout fishing.
There is also plenty of other things to do here including camping, biking, hiking, and soaking in the hot springs.
3. Henry's Fork, Idaho
Henry's Fork is a tributary on Snake River, located in eastern Idaho near Island Park. It is named after Andrew Henry, a trapper who discovered it around 1810. Henry's Lake is the source of the river, and also has fantastic fishing.
Considered one of the finest dry fly streams in the world, Henry's Fork is legendary. Beautiful waters marked with lush grassland and mountains as a backdrop make this place one of a kind.
The Henry's Fork Lodge is a great place to stay and pick up some guides as well. It is considered one of America's greatest fishing lodges.
Henry's Fork is full of big wild Rainbow trout and is super beginner friendly. The end of May through mid July is the prime fishing time. Mid September through October is another great period. You also have the option for hunting duck, grouse, and geese at this time.
Late Fall and Winter time usually gets plenty of snow. If your schedule is more flexible, you can find some great fishing during winter on November through April.
4. Bighorn River, Montana
Once a raging wild river, the Bighorn has been tamed over the last 50 years by Yellowtail Dam, making it a great and stable place for trout to flourish. Over the years, it has gotten the reputation for being a world class place for trout fishing.
Image By George Stephan (Flickr)
Brown trout are commonly found here with a smaller Rainbow population. The popular bait of choice is artificial flies. Clear waters, lush grasslands, and a beautiful canyon are only a few of the many reasons to visit.
The river runs through Crow Indian reservation lands, so there are restricted areas of access. You will definitely want to do your homework before visiting so that you don't accidentally trespass. There is a nice reservoir and canyon that are part of the Bighorn Canyon National Recreation Area.
Fishing is pretty good year round, but many would agree that August is the best month to come. There are some campsites nearby for you to stay, or you can go for lodging in Hardin which is just a short drive.
5. Green River, Utah
Another world renowned spot is the Green River in northeast Utah. It is another place with beautiful scenery including a red canyon and clear greenish waters. The river below the Flaming Gorge Dam is perhaps one of the finest fisheries in the United States.
Image By Ken Lund (Flickr)
There are plenty of Brown and Rainbow trout in these waters. You are restricted to artificial flies and lures and catch and release is highly encouraged.
Spring is arguably the best time for fishing here after a long winter with little fishing pressure. Summer brings more crowds, but the fishing still stays pretty good. Late summer and fall is the most challenging time of the year.
With such great scenery, there are plenty of things to do here including hunting, rafting, hiking, and mountain biking. The beauty of land is so appealing that there are many legendary historical figures, including Butch Cassidy, that sought refuge here.
Conclusion
To wrap up, we just covered 5 of the best spots for fly fishing in the United States. Depending on your particular preferences and fishing style, each one of these places will give you a lifetime of warm memories and maybe even a trophy catch.
About the Author
Tom Sheppard is a long time hunter and fisherman. He loves spending a lot of time in nature and loves studying anything related to survival. Tom often shares what knows by writing articles for Trek Warrior.