Summertime is here and the fly fishing season is well underway. What better way to enjoy the warm weather then to get out on a crystal clear stream on a hot day and cast a few flies to some hungry trout. But what flies should you start with? What flies will help increase your odds at landing that next beautifully spotted trout? Follow along as I share with you my Top 5 Summertime Stream Flies and see if there are some in there that you can try out next time you're on the water.
My Top 5 Summertime Stream Flies
Many people have their favorite flies for different situations. I'm one of them. Confidence flies are a huge factor in fishing success. These flies tend to be the ones that produce the most fish on a given trip and the ones that you feel like increase your chances while on the water. My top 5 Summertime flies list is a combination of just those items. These flies have consistently produces fish for me on rivers, streams and creeks and I have great faith in them that they will continue to do so. Let's get to the flies now…in no particular order.
No. 1 – The Stimulator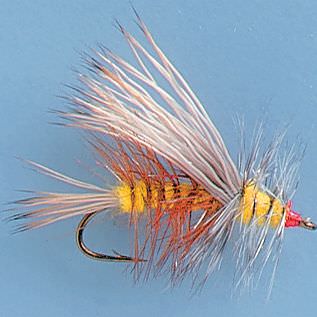 The Stimulator is a great attractor dry fly pattern for the warmer months of the year, which makes it a perfect Summertime stream fly. This dry fly doesn't really resemble any specific type of insect, but it does a great job at resembling a whole lot of bugs at the same time.
If you're fishing a brushy-banked stream with lots of grasshoppers, try this one out for sure. Aside from the obvious grasshopper imitation, it's just an all around fishy type of a fly. Plus it floats high and has enough buoyancy to keep a nymph suspended below it when you're fishing a two fly rig. Pick some up and give them a try this Summer.
[You can find a good selection here -> Cabela's]
No. 2 – The Parachute Adams
The Parachute Adams is a dry fly that has been a long-time favorite of mine. It can represent a multitude of insects and tends to constantly produce fish. The most common imitation for it is that of a baetis mayfly, but this dry fly pattern can work in so many other situations such as standing in for a blue winged olive or even small midges when tied really small.
Also, try this one out in a larger size, say 10-12, and you have another great attractor pattern to go along with the Stimulator mentioned above. It doesn't have as great of buoyancy as that pattern, but it tends to imitate specific mayfly insects much better. Yet again, another fishy fly that produces like crazy during the warmer months, but also when it gets a bit colder as well.
No. 3 – The Frenchie
Many people may not be as familiar with The Frenchie. This is a nymph created by a friend of mine and Umpqua Feather Merchants Signature Fly Designer, Lance Egan. It was born out of competition and ever since I found out about it I've been hooked.
The Frenchie is probably one of my favorite of the Top 5 Summertime Stream Flies. It's a quick-sinking, fishing nymph pattern that doesn't imitate anything specific, but like some of the other patterns in this list, it matches a whole lot of other bugs. I almost always have this fly on when fishing streams these days. It can be a bit heavy used as a dropper, but don't count that out because it can work. The gold bead and red hotspot are great added attractors to the fly and tend to almost make fish eat this even if they don't want to. Pick some up at your local shop and try them out next time. You'll love this one! You can find an assortment of tungsten nymphs, including the Frenchie, here.
No. 4 – The Elk Hair Caddis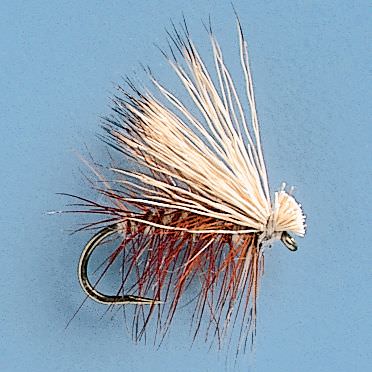 The Elk Hair Caddis is a staple in many anglers fly boxes. The Summertime months are a great time for this one as well as the caddis flies come on in full force in these warmer times of the year. Blankets of caddis can cover the water at times and the tried and true Elk Hair Caddis is a go to fly for many. It does a great job as a direct imitation of a caddis yet can also work well as an attractor pattern like the flies above.
I'm particularly fond of this fly as it was what I used to catch my first fish on a fly rod. I still remember that to this day and year after year it continues to produce fish in the Summer months for me. Many times I'll fish this dry fly alone during caddis hatches. When the fish are keyed in to the caddis on the surface, it doesn't have much benefit to use a dropper and so the lack of an additional fly helps out in the casting department and makes for one less thing to worry about. Also, this particular fly can be used to imitate larger terrestrial insects like grasshoppers. If you find yourself on the water and need a hopper but don't have one, give this a shot. It might just do the trick. Pick up a few from Cabela's.
No. 5 – The Tungsten Surveyor
This is another fly that many anglers may not be aware of and also another one from Umpqua fly designer Lance Egan. The Tungsten Surveyor is a simple yet effective nymph pattern that produces fish with some sort of magical power.
My favorite aspect of this fly is the red underbody it is tied with. Get this fly wet and it looks almost translucent with a red core showing through. This may be part of its magical powers but I can't say so for certain. What I do know is that it produces fish left and right. Like the Frenchie, this one is on the end of my line a considerable time throughout not only the warmer months, but even as the weather starts to cool down. It can be a bit heavy, like the Frenchie, but when you come upon a deeper pool or run in the river, this one can be the ticket to get your fly or flies down deep to those fish not up on the surface. It's last benefit is its simplicity to tie. If you are a seasoned tier or just getting into the art of fly tying, this one is an easy one. Thread, dubbing, a flashback and bead are all you need to crank out a dozen of these in no time. If that's not for you, check out your local Umpqua fly dealer to pick up a few already tied up. You'll love this one too!
Top 5 Summertime Stream Flies Wrap-Up
That does it for my top 5 Summertime stream flies. It's a short list, but one that I hope will give you a few ideas of what to try next time you're on the river this Summer. These are additions to my confidence fly list and can consistently produce fish for me. When the going gets tough on my local rivers, I turn to these flies. Pick some up and try them out for your next river fishing trip.